HOW DOES THE HITCH FIT SYSTEM WORK?
First you need to figure out what Program is right for you. Our Programs Page can be found HERE!!! No matter what age, size or goal is we have a program that is right for you.
After you choose and purchase the program you will be sent sent a list of questions to help us better understand where you are and where you want to be , we will also ask for before pictures.  Its very important that you do this so we can see what you look like and throughout we will take updated pics that will compared so that you can see the changes and remain accountable.  We will not be able to make a plan without images. We offer a downloadable book and dvd.  The DVD will show you how to perform every exercise within the plan, we also have a Youtube Channel with all the exercise demos- www.hitchfit.com/hitchfit, the BOOK teaches you the Hitch Fit lifestyle, balanced nutrition and fitness.
The program consists of a custom diet, nutrtional help and tips, 12-36weeks worth of workouts split up in 4-6 week plans, Hitch Fit Dvd and Book and personal support from us. You will be responsible for contacting us on a weekly basis to let us know your updates on your weight and how you are feeling.  We are also there at anytime to answer any questions you may have!!! You will be communicating with us personally not a automated system, if you do not hear back from us within 24 hours please resend your message . Our goal is to get you in the best shape of your life and teach you the Hitch Fit lifestyle for long term success.
HITCH FIT PROGRAMS
We offer Lose Weight Feel Great Program which can help you lose up to 40-50lbs in 16 weeks, teaching you a new healthy lifestyle.
The Muscle Builder Program, was developed to help the individuals that want to add muscle on to their frame or a hard gainer that has issues putting on weight.
The Couples Bootcamp Program is great if you have a spouse or friend that also wants to start their transformation or if you have a wedding coming up!!
The Look Like a Fitness Model Program is designed for those who are already in good shape and want to take it to the next level, this is designed to help you look great for a upcoming photo shoot or get your body looking like your favorite fitness model.
The Look Like a Bikini Model Program is designed for those women out there that are ready to get their body to the next level.  You will be a head turner at the pool and become so much more healthy!!!
The Post Pregnancy I Want My Body Back Program is designed for those women out there that havn't lost all their baby weight and want to get their body back in its  Best Shape ever.
The Competition Prep Program is designed for getting you stage ready.  This program teaches you all the steps to looking your best at your competition.   We would love for you to be our next Hitch Fit Transformation.
The Green Power Program is designed Specifically for Vegetarians and Vegans.  Your diet will be customized in a way to fit your needs and your workouts tailored to help you reach your goals
The Get Big, Get Ripped Plan is The Lose weight Program and The Build Muscle Program all in 1.  You will go through a period of cutting the fat then go through a phase of building muscle to get that Ultimate Body you have always wanted!!
The Plus Plan is for those that have from 50-100lbs to lose.  Your journey will be longer but will also ensure that if you follow it you will come out much more fit and healthy!!
Hitch Fit Clients Share their Stories of Transformation
Over 15,000 Lbs Lost in 2011 with Hitch Fit
http://www.youtube.com/watch?v=P5slHZRO0kk
Hitch Fit Programs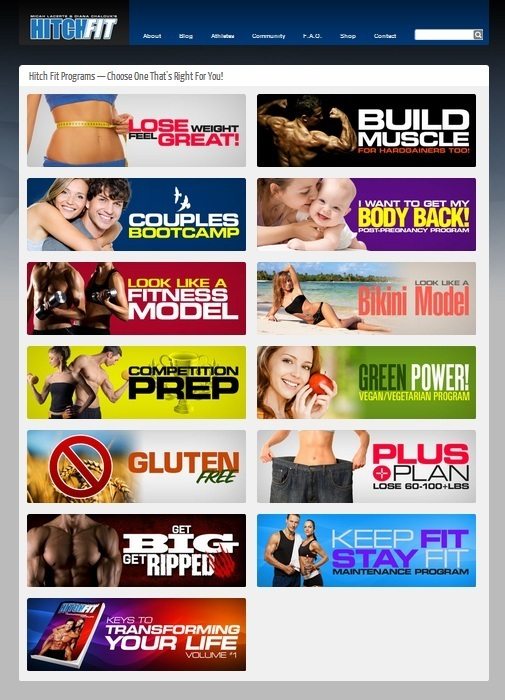 For all other Questions Please Use our FAQ Section
See Results within 30 days or sooner. You have to want this and make the changes to get the desired results but this is a team effort, We will be here to help guide you and motivate you throughout if needed. Are you ready for Change in your life?. You have read and heard from all the people on this site just like you that we have helped, you could be the next person Featured and telling your story on Hitch Fit.  Just be 100% ready for change if you are not ready then wait until you are before buying.  We have a No Refunds Policy.  If you buy and for whatever reason you fall off and then want to start it over we will continue to be there for you so you can check in and get to your Transformation!!!