SEE HOW HITCH FIT WORKS
Whitney Shed 18% Body Fat in 18 Weeks and Won her First Figure Competition!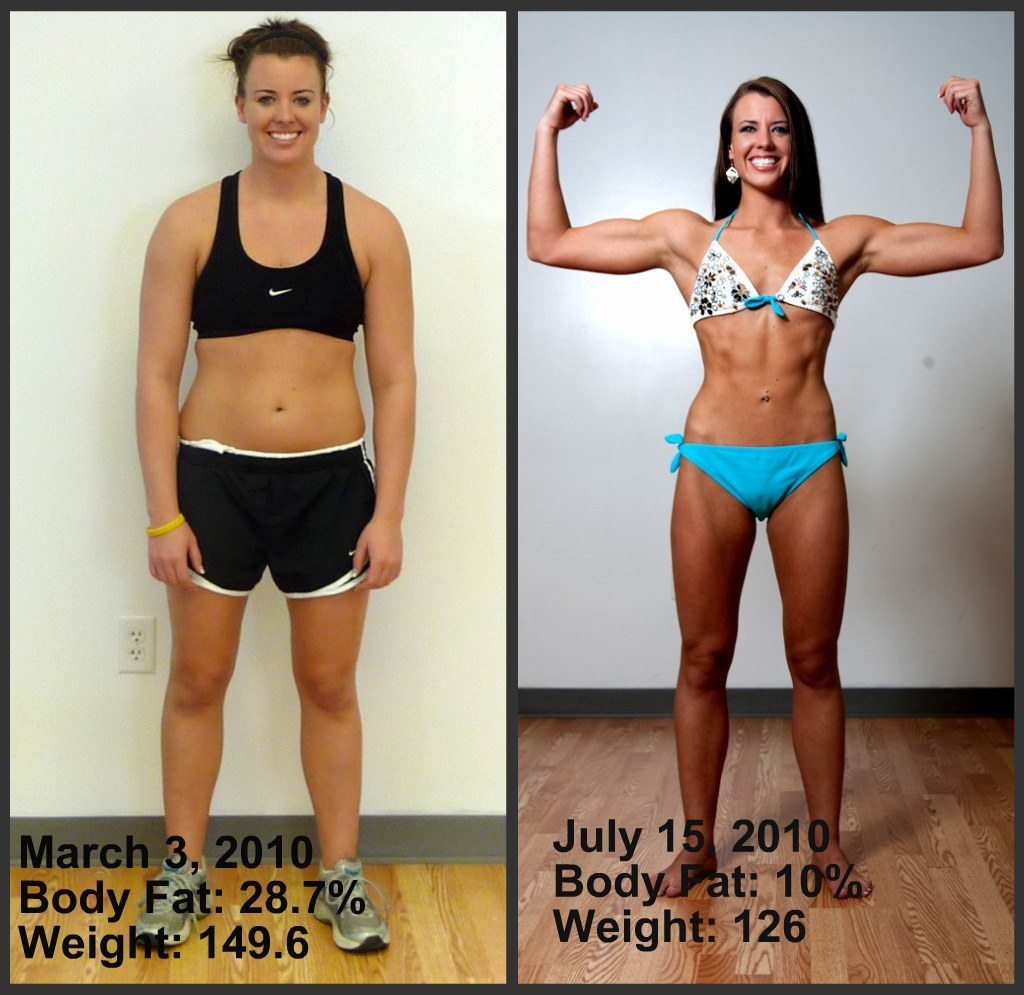 Whitney has a story that hits home with a lot of women. She was active all of her life, very involved with sports and never had to worry about her weight, but then once "real" life settles in, things start to change, a couple pounds of weight gain turns into a few more pounds and before you know it, you no longer recognize the reflection in the mirror.
When Whitney and I first met, she was interested in Figure competing, it was something she had thought about for a while, but just wasn't sure where to start or how to get there. I told her that the journey would be a tough one, but that whenever she was ready to take that leap of faith I'd be happy to help her. I saw a lot of myself in Whitney, her story reminded me of my own, I remembered how it felt to feel out of control of my own body and not quite sure how to get it back to where I wanted it.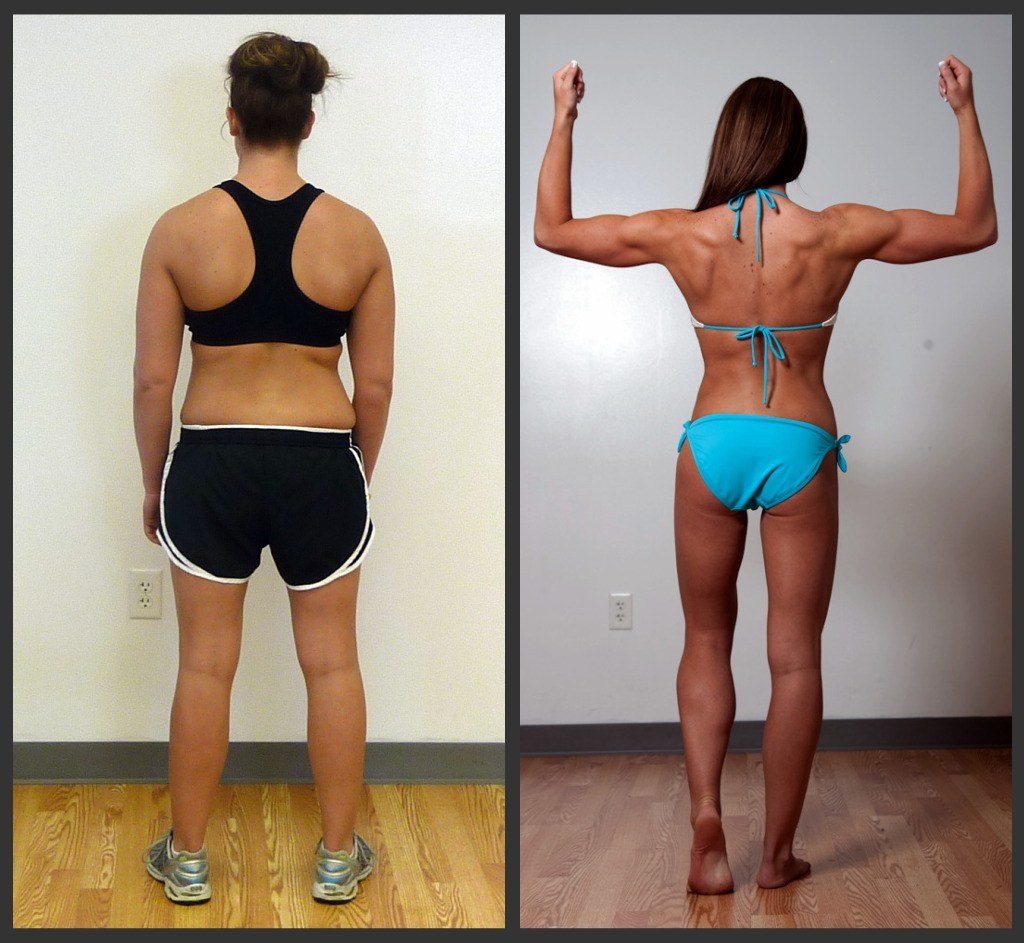 Whitney's journey began on March 3, 2010, she weighed in at 149.6 and had body fat of 28.7%. She had chosen a show that was in July so our journey had to begin immediately to get her to 10% body fat in order to step on stage and compete! I couldn't have asked for a more dedicated client, Whitney followed my instructions to a T, and her body started changing immediately. Every week she was leaner and leaner, we started seeing more and more muscle definition and I could see her confidence growing on a regular basis as she told me about the many compliments that she was now receiving.
On the day of her final photo shoot, which was two days prior to her competition, Whitney weighed in at 126 pounds and 10% body fat, goal achieved!! Along the way, we discovered that this girl has some  phenomenal abs!! She competed in Springfield, MO on July 17, 2010, her very first show, and walked away with not one but TWO first place finishes in two Figure Divisions!! With a taste of success under her belt, Whitney is hungry for me, I can't see what the future has in store for her as she continues to take on the world of competition!! Congratulations Whitney, super proud of you!
Whitney Vaughn – 1st Place Figure 2010 Musclel Madness, Springfield, MO
Hear Whitney's story, watch behind the scenes of her training and her photo shoot with David Bickley at Hitch Fit Gym!
WHITNEY'S STORY
"Diana has given me the tools for a healthier and happier life. Five months ago I was the heaviest I'd ever been and very unhappy with myself. I've always been an active person; I played completive sports all through high school and every intramural sport possible in college. I've always loved working out and somehow got off track which caused me to gain a few pounds and then a few a more.  After noticing the weight gain I kept telling myself I'd get back on track next week but the weeks turned to months.  Finally I didn't want to look at myself in the mirror anymore and was becoming depressed, I thought back to why I used to work out all the time and what had kept me motivated in the past. I realized I was always training for something. I had played with the idea of becoming a figure competitor all through college since I was no longer involved in competitive sports, I mentioned the idea to Diana and she jumped all over it never doubting me and said she could help, which surprised me because I wasn't in my "normal" shape.
I started with Diana in the beginning of March and by July I surpassed my "normal" good shape and reached the best shape I've ever been in, a kind of shape I never thought was possible. Throughout the last four months Diana has helped me with my Diet, my biggest problem, as well as my workouts. The first weeks were the most difficult and frustrating because I knew I was capable of so much more. I learned that my body wasn't what it used to be but if I pushed it would come back. I followed Diana's instruction said pushed through until the workouts got a little easier and my weight and body fat began to drop. Eventually I started to feel like myself again. Diana continued to push me harder than anyone has helping me pass any kind of "good" shape I had gotten myself into in the past.
Today I'm so much happier than I was in March. I hardly recognize the before picture and don't ever want to see it again! I placed first in my first figure competition and plan on continuing to compete in the future.  My friends and family can even see that I'm happier than I've been in a long time, and the change has motivated then to start working out as well. My dad has lost over 30 ponds and my mom has lost over 15.  All I have left to say is thanks to Diana for helping me get the body I have always wanted!!!!"
You can be the next Hitch Fit transformation
SEE HOW HITCH FIT CLIENTS LOST OVER 2000 LBS!!!!
Competition Prep
,
Competition Programs
,
female
,
Figure Competition
,
less than 20% body fat lost
,
lose weight feel great
,
Lose Weight Programs
,
over 20 pounds lost