When today's transformation Andrea saw Hitch Fit Online Client Amy G's Post Baby Weight Loss transformation she was INSPIRED!! She had recently given birth to her second child as well and determined that if Amy could do it, she could do it! Amy did a 12 Week Post Pregnancy Program with Hitch Fit , completely revamped her lifestyle and took the time for herself to get healthy. She did her entire program AT HOME to boot!  She shed 30 pounds of body fat and reduced her body fat significantly, going from 31% to 14%. Congrats Andrea on an incredible job, now you will be the one doing the inspiring!
Andrea's Stats:
Starting Weight: 154
Ending Weight: 125
Starting Body Fat: 31%
Ending Body Fat: 14%
Andrea's Story
"I first heard the name Hitch Fit from my sister. She had seen a transformation on face book of someone she went to high school with (Amy G.) and she called me stunned by the transformation Amy had accomplished after having two kids. My sister knew that I had been talking about doing something to get my body back after having my two kids and the results of Amy G. were incredible! I decided to look into it. After emailing Micah and getting some information about how Hitch Fit worked, I had to really think about it. It took me a few weeks of thinking about how hard it was going to be and questioning if I could really do it before I decided I was going to go for it.  I was inspired by what Amy G. had done and I thought to myself, If she can do this after just having a baby, I can do this!
The first week of the program was one of my toughest. For the past three years I had eaten whatever I wanted and as much as I wanted. I had not exercised very much at all, so I was really  really out of shape. I had gained around 60 lbs with my first pregnancy and 55 lbs with my second. So I had to take it one day at a time, sometimes one moment at a time, but with each workout or run on my treadmill I started getting the hang of it. After the first week had past I had lost 8 lbs. I could already feel and see a difference in my body. I took that momentum and went with it. Each week I lost more and more weight. Some of my toughest challenges in the beginning were that I felt guilty taking time out of the day and away from my babies for me to do my workouts. My husband reassured me that it was what I needed for myself and I'm so glad I listened! Because loosing the weight has made me a much happier person and a better mom.
In what seemed like a snap of my fingers, it was nearing the end of the program. By the end of the 12 week program I had hit my goal and lost 30 lbs! It's amazing how much better I feel and how much more confident I feel! It still takes effort to keep up with my workouts and staying on track with my diet. But the knowledge that I have gained from Hitch Fit has taught me how to eat and what to do to keep my body in shape. I am so grateful to Diana and Hitch Fit! The support Diana gave me was amazing! She was always just an email away for any questions I had. Having to email Diana each week with my results from the past week really kept me on track! Another thing that was amazing about the program is that I was able to do everything at home. I never stepped foot into a gym. So that was really convenient for me.
My advice to any new mom is to NOT let yourself go! I did that and by not taking care of myself I only felt worse and worse about myself. It is so important to take a little bit of time for yourself. Hitch Fit is no easy fix! It takes a lot of determination and hard work, but the results are so worth it!!"
How "Lo" Can You Go? How to Get a J. Lo Body
http://hitchfit.com/2012-06-01/fitness/how-lo-can-you-go-how-to-get-a-j-lo-body/

Hitch Fit Clients Share their Stories of Transformation
Start Your Transformation Today!!!
Click Below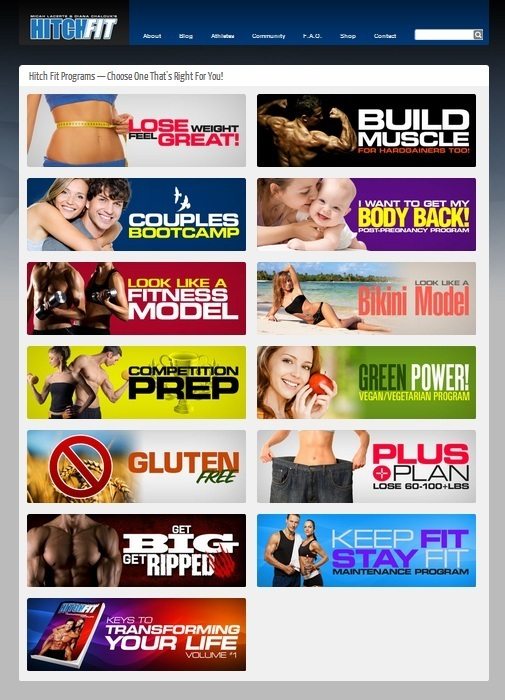 HOW HITCH FIT WORKS