At one point in her life, today's transformation Jennifer weighed 260 pounds. She has taken charge over these last couple of years and completely changed things around for herself! She had reached a healthy body fat percentage of 22% when she reached out to Hitch Fit. She wanted to take things to the next level with our Online Fitness Model Program, and that's just what she did! Jennifer took charge and ended up dropping another 10% body fat and a little over 15 pounds throughout her journey with Hitch Fit. Really proud of how far she has come!! Congrats Jennifer!
Jennifer's Stats: 
Starting weight: 145.5
Ending weight: 130
Starting Body Fat: 22.7%
Ending Body Fat: 12.8%
Jennifer's Story: 
"Hello all! My name is Jennifer and I would like to take a moment and share my Hitchfit transformation story with you. Hopefully it will inspire and help some of you as much as many the other Hitchfitter's stories helped me.  Before you can truly understand how major this transformation has been for me you must first understand a bit of my backstory.  About 5 years ago before ever finding Hitchfit, I got to a very low place in my life. I was 260 pounds and had pretty much given up on ever being able to change, but I did. I didn't know anything about Hitchfit at this point and I'm not sure that they were around just yet, but I decided to lose weight using another weight loss program. This company helped me to change my eating habits and over the course of 2 years I ended up losing 115 pounds. I did this all naturally through proper eating, but without any physical exercise in the mix.  Needless to say, I was ecstatic to have lost so much weight and I kept it off over the course of the last 5 years, but I was still not truly happy with my new body.
Jennifer at 260 pounds
Now let's fast-forward to this past year when I decided again that it was time for another major life change.  I was tired of feeling fat and what really got me upset was that nobody around me could understand what I was going through. When I complained about the way I looked or felt they would say "Jennifer you're not fat, you're skinny" and give me a weird/almost annoyed look afterwards. Regardless of what they said I knew what I looked like naked and how I felt about myself.
I was tired of constantly wearing undergarments to help smooth out the "bumps" and I was angry because I had already come such a long way from where I began and still wasn't happy, so I did what I do best (as my husband all ways tells me) I started doing research. I soon came across a few articles that described me to a "T" I was skinny-fat and no I'm not just making up new words. Skinny-fat usually describes a person who is thin looks great in clothes, but lacks and lean muscle therefore underneath the clothes they are flabby. Well that was me, I had lost all of that weight, but I never once thought about hitting the gym and picking up the weights. As a matter of fact, I was like most women and thought that picking up weights would cause me to get all bulky like a man. Eventually my husband talked me into trying weight lifting and I instantly fell in love with it, but I still wasn't getting the results I wanted….ENTER Hitchfit.  After a year of giving it a go on my own and making very slow progress I decided I needed to get a personal trainer to reach my goals.I couldn't afford a personal trainer at my gym and to be honest I wasn't that impressed with them, so I started researching again and came across the Hitchfit webpage. After looking over all of the amazing transformation stores I was really interested in finding out more information about Hitchfit, so I sent them an email with my questions. Micah answered all of my questions and did not try to pressure me into buying anything. It was then that I knew Hitchfit was going to be the way for me to go.  I spoke with my husband about Hitchfit not only was he ok with my giving Hitchfit a try, but decided to take the Hitchfit Journey with me. So we both signed up for the Fitness Model program. A couple of days after sending in my information, I was sent my customized workout and nutrition plan. My plan was 16 weeks it included a cardio and weight training schedule and it also included a nutrition plan. Like I said earlier, I had already changed my eating habits a few years ago, so I thought the nutrition portion of this plan would be a breeze, but I was quickly surprised at how my "healthy" diet was really not very healthy at all. The plan taught me about the importance of getting the proper amounts of protein, carbs, and fats to feed my metabolism rather than starve myself. And the workouts well they were intense, but there were never any obstacles thrown at me that I couldn't handle.
Diana was my trainer through this program and she was an angel because there were times when I was a big whinny baby, but she never gave up on me. If I had questions she was always there with answers and encouraging words. The thing is, never once did Diana or Micah say the program would be easy, but what they did say was that it works, if you follow the plan. I followed the plan there were hard days, days I could barely walk, and days I felt like giving up, but those days we're always beat out by the other days…, the first time I caught a glance of a bicep in the mirror, the day my elastic gym pants got too big, or the final day when I put on a bikini and FINNALY felt comfortable in my own body.
So what's next for me? Gosh, I feel like Hitchfit has opened up a whole new world for me. I now love to exercise and I want to start another program with Hitchfit. I would like to say thank you to a few people, first being my awesome husband whose support helped me every step of the way, the Hitchfit Facebook family who inspired me to keep going on a daily basis and to Diana and Micah. You guys are truly inspiring and changing lives, Hitchfit has changed my life forever and for that I will always be grateful! "
Jennifer's program choice:
Hitch Fit Recent Transformation Amy
Click Below to See more Pics and read Amys Story
Hitch Fit Clients Share their Stories of Transformation
Start Your Transformation Today!!!
Click Below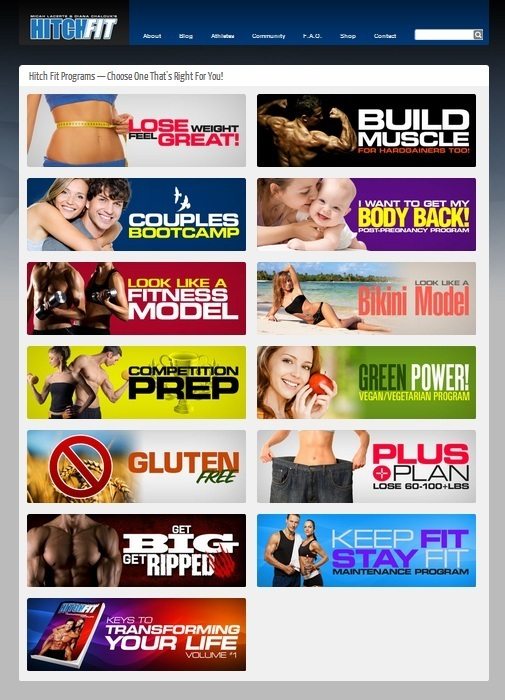 HOW HITCH FIT WORKS