Wow Amy did Amazing – Amy contacted us over 2 years ago but wasnt quite ready to make the changes needed, after follow for a long time she decided she was finally ready to give 100% .  She kicked some major butt!! Amy Lost over 25 lbs of FAT, 16.2% Bodyfat loss, 5″ on her Waist and 7″ on Hips.  Most importantly she is Healthy and Full of Life.  Amy used the HITCH FIT COUPLES PROGRAM with her Husband.
Hey everyone. I'm so honored to share my story with you, but first want to say thank you to Micah for the tools and motivation to make this happen and to my husband who took the lead on food prep/choices, an occasional kick in the rear, babysitting, and endless support. I first contacted Micah over two years ago asking questions about the programs offered at Hitch Fit. The first email was sent because I wasn't happy with where I was physically and I was seeing others getting fit and trim. I wanted that, but didn't know how to get it. Prior to having my son, Matthew, I was a yo-yo dieter. If I felt a little too heavy, I'd blame it on PMS, skip a meal and go for a jog. I thought I'm a dancer, that's all the exercise I need. During my pregnancy, my weight topped out at 186 lbs (I think) and I was diagnosed with pregnancy induced hypertension. I had planned to continue dancing through my pregnancy, but not only did I have PIH, but I developed sciatic nerve pain. There were days I could hardly walk. The whole time I told myself, this weight is going to fall off just as soon as I have the baby. On March 11, 2009, I was blessed with a perfect, beautiful baby boy. But, both my weight and blood pressure were still up in the stratosphere AND my sciatic nerve pain was making life SUCK! I was put on a low sodium diet, a diuretic and blood pressure medication.  I was told I would be on the medication for the rest of my life. I was scared.
It was through a combination of tennis, running and starving that I got down to my pre-pregnancy weight. I still felt so weak. Despite getting to my starting weight of 134, I was soft and squishy! I started dressing really thin to hide the trouble areas.  Deep down, I knew my body was capable of looking a different way.
Two years later, I was drowning under responsibilities, overly tired and my self esteem was hanging on by a torn thread. My decision to start Hitch Fit came one evening when I was walking down the hall toward my husband. He stopped me and asked "Why are you walking with your head down?" I stopped and looked at myself in the mirror. I was shocked by what I saw and I cried. In that moment I realized the person looking back wasn't who I wanted to be and I wanted to be better for my kids (Matthew and my step kids). After all, I've done some really amazing things in my life. I should be standing up tall and proud.
Amys Transformation video!!
I started doing some research; I read all the Before & Afters on the Hitch Fit web page, started texting my friends (Shannon, Brandi, Andrea, and Ashlie) who had gone through the program, and started talking to my husband about how I felt unhappy with myself.  My friends were so amazing! They listened to every excuse I could come up with…no time; I have a kid and step-kids; I've never used gym equipment; I work full-time; I have other commitments; I have past injuries; I'm already worn out; I have a cruise coming up…..and they each told me "Everyone deals with that stuff! This program isn't easy, but if you want to change and follow it, you'll get the results you want." My husband told me "You deserve to always feel good about yourself. I support you." Well, I was fired up! But, it wasn't enough for just me to sign up, I signed up my husband too. We did the Couples Boot Camp. Doing this together created a deeper understanding and respect for each other.
Our journey through Hitch Fit began just before Christmas. We took our before pictures and even though I was smiling, I was terrified and when I saw the pictures, I wanted to burn them!!!!!!! I was so far away from the figure I had when I was dancing and when I cheered for the Tampa Bay Mutiny. My goal became to look like the girl in my cheerleading photos. After sending the pictures, I was asked to complete a series of questions. One of the questions was: What are your overall goals? My answers were:
To feel beautiful and strong.
To have more energy.
To have a flatter stomach and firm arms.
 To lower my stress levels.
Today:
I still struggle with the beautiful part. I think that's a hard one for women, but I feel so strong; physically and mentally. It is 100% true that if the mind can imagine it, the body can achieve it.
My energy levels are out of this world after I've workout. When I miss one, I definitely feel like a slug.
I've gotten firmer! At about week 5, I started looking in the gym mirror to see my arm muscles; not just to check form. Taking pictures at every leg of the journey has been so revealing. At week 11 or 12, I took a picture of my mid-section and I saw abs galore!!!! So many abs that I did a happy dance right in my bathroom.  Not to mention, I was trying on a new sundress for my husband to yay or nay and I went to suck in my stomach like I've always done and there was nothing to suck in. We both laughed. And, I have more definition than I had in those cheerleading photos and no longer have to paint on abs!
My stress is still there! I wish I could say this program makes it go away, but it doesn't. However, I'm better able to handle the stuff that comes flying at me now.
I'm being taken off of my blood pressure medicine!!!!
I have no hip pain!
Something that I was warned about prior to starting this program which I didn't entirely believe until it happened was that there would be naysayers. I used to care so much about what others thought of me often defining who I was by what people said. Completing this program and my first 5K taught me that when you do something good, really good and you know how much it took to accomplish it, you get an inner peace that no one can shake.
During our interview, Micah asked me what was next. Well, I've always said "If Broadway calls, I'm outta here!" But, in the meantime, my plans are to maintain the results I have by eating clean and working out regularly, going back to ballet; running my first 10K, and helping my kids, family, and friends to achieve their health goals.
If you think you're stuck and that this could never happen to you, I get it! I was there! Stop waiting for the right time or right combination of circumstances to make a change. Make the time right, now! Its so easy to hide behind a blanket of extra fluff. Its like a security blanket from our realities, but once those layers get shed, we become stronger and better able to face or change those realities. I was intimidated by the level of discipline and commitment required by Hitch Fit. I started making small changes before I knew in my heart I was ready for this. My advice, make a few small changes and contact Hitch Fit. It's a safe place for people who want to make changes and might be a little scared of the process. Time after time they have proven it can be done! And they not only create successful transformations but clients for life! If I can do it, you can too.
Latest Blogs
Which Butt Do you Prefer?
http://hitchfit.com/2012-04-11/fitness/butt-workouts/
Marilyn Monroe Working out!!!
http://hitchfit.com/2012-04-23/fitness/marilyn-monroe-working-out/
I hope Each of you are focusing on bettering yourselves and I want nothing more then for all of you to be Fit and Healthy!  Reach out to us if you ever have questions and if you are Ready to Start Your journey with Hitch Fit Check out the links Below
THE COUPLES PROGRAM
Get in Shape like the Ladies Above After having your baby!!!
Hitch Fit Clients Share their Stories of Transformation
Hitch Fit Programs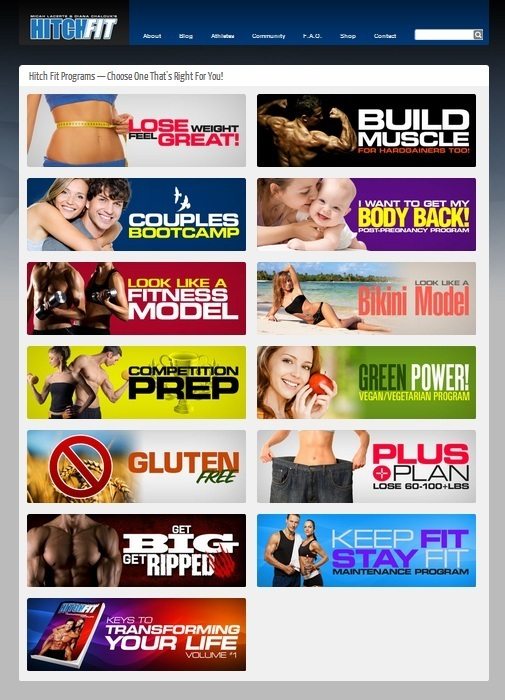 HOW HITCH FIT WORKS