Today's transformation is online client Alisha! This mom of 2 wasn't "overweight" when she first started the Hitch Fit 12 Week Lose Weight / Feel Great program, but she was unhappy with her body and really wanted a change and to drop her body fat. Fast forward 12 weeks and her mission is accomplished! She looks AMAZING, she has her pre baby body back, and she is going to inspire a lot of moms out there who think that you can't do this for yourself! Alisha shed 12% body fat over her 12 week program and 12 pounds on the scale! Great job Alisha!!
Alisha's Stats:
Starting Weight: 122
Ending Weight: 110
Starting Body Fat: 24.6%
Ending Body Fat: 12.8%
Alisha's Story:
"Growing up and even throughout my 20's I have always been naturally thin. I really didn't have to work at dieting or working out. I played sports throughout high school and college and never realized how much of difference it was going to make in the way I looked and the way I felt when I stopped.
Now, fast forward ten years and I am in my 30's and a mother of two. After my daughter was born I bounced back fairly quickly. After my son was born I was able to lose the weight, however, my body looked nothing like it did before having my children. This was the point that I decided that I needed to make a change in my diet and my exercise. I didn't want to look back at myself ten years from now and wish that I had made a change earlier.
I looked through the before and after pictures on the Hitch Fit website and was amazed at how great these women looked and thought how great it would feel to have such a great personal accomplishment. I decided to sign up for the "Lose Weight Feel Great" 12 week program.
The first week of the program was a little overwhelming. I had never eaten this healthy and I normally only ate 2 or 3 times a day. Starting on the program I had to eat 5 times per day. The diet and the amount of food was definitely a huge change and took a little getting used to. My weakness was always drinking Dr. Pepper. I would drink it all day and never drink water. I thought there is no way that I can go 12 weeks without it. I stopped drinking it from day 1 of my program and have not had a single one since. Now my body craves water (like it should) and I don't crave it all. This program has taught me to be healthy and now my body craves the food it should.
The workouts (especially the cardio) can be pretty intense. I have never been a long distance runner but after finishing this program I like to get outside and run and stay active. My body feels so much better after I workout. Now that I can see the results it makes me even more dedicated to workout.
During the first month of my program I didn't lose a single pound. I kept thinking that I was doing something wrong. But then my measurements (waist and hips) started to change. I was gaining muscle and losing inches. By the end of week 6 I could start to see a change in my body. Once I started to realize how my body was changing it was even more motivating for me to keep up with my program and make it to my goal of losing 10 pounds.
By the end of week 12 I had lost 12 pounds. Now I feel like I have the body back that I had before having my children. I am so happy with my results and I am glad that I decided to take charge of my body. Twelve weeks sounds like a long time when you are trying to decide if you can dedicate yourself to such an intense program. Looking back at it the twelve weeks went by so fast and the hard work and the results are more than worth it.
Alisha's program choice:
How "Lo" Can You Go? How to Get a J. Lo Body
http://hitchfit.com/2012-06-01/fitness/how-lo-can-you-go-how-to-get-a-j-lo-body/

Hitch Fit Clients Share their Stories of Transformation
Start Your Transformation Today!!!
Click Below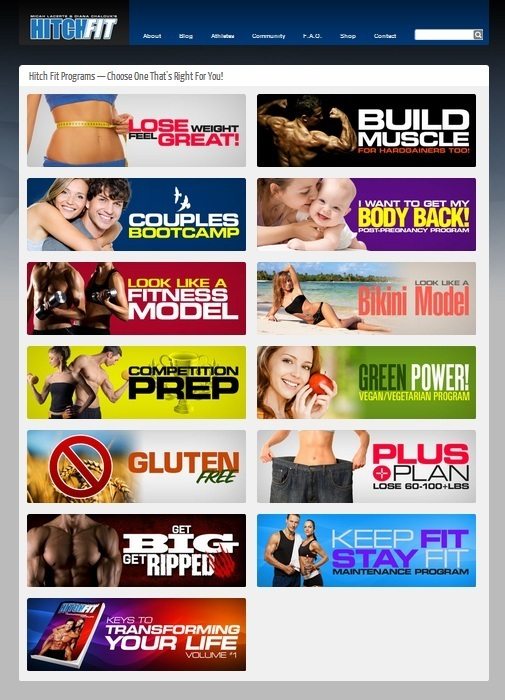 HOW HITCH FIT WORKS