Today's transformation is another inspiring one! Chloe first wrote to me when she wanted to sign up for her very first competition, the WBFF Central US Championships here in Kansas City. Chloe is a mom who had put off her competition dreams when life got in the way, but she finally decide that it was her time to shine and she certainly did that!! Chloe worked with me online via the Hitch Fit Competition Prep program. She was great to work with, a hard work and willing to do what it took to be her best on the day of the show. All that determination paid off when she landed a well deserved 2nd place in Diva Bikini Model 35+! Chloe will be an inspiration especially to any of you moms out there who think that competing is a dream that has passed you by. Great work Chloe!!
Chloe's Stats: 
Starting Weight: 110.8 lbs
Ending Weight: 93 lbs
Starting Body Fat: 19%
Ending Body Fat: 9.3%
Waist – 28 Inches to 24 Inches
Thigh – 20.5 Inches to 18 Inches
Hip – 33.5 Inches to 31 Inches
Chloe's Comparison Shots from Competition Day
Chloe's Comparison Shots from Official "After" Photo Shoot – 2 days before competition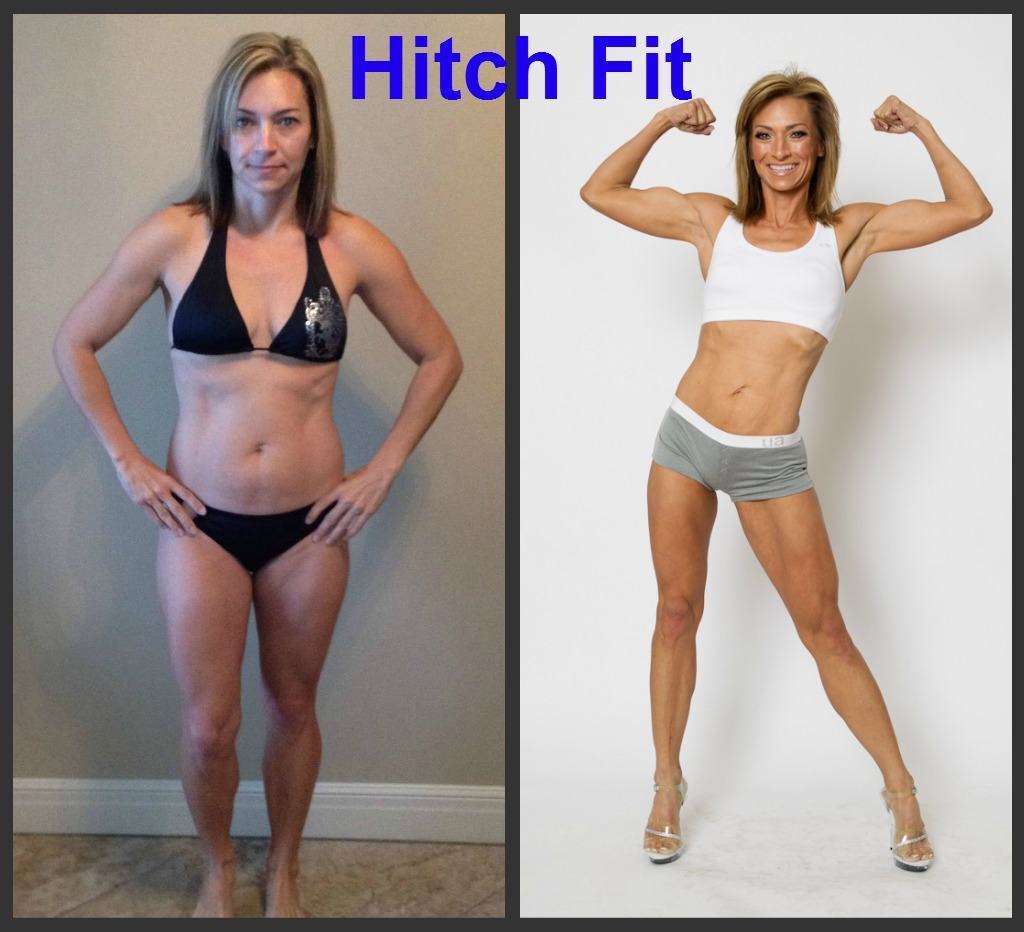 Chloe's Story: 
"My story is not unique…in fact, it is probably a very familiar story to many women of my age.  I grew up doing dance and gymnastics.  Throughout high school, I competed in gymnastics and cheered.  I was never an elite level gymnast by any means, but I enjoyed the sport and continued to stay involved, teaching gymnastics to little ones throughout college. After college, I began to follow Ms. Fitness and Fitness America Pageants.  I knew all the top athletes, and I eagerly awaited each new issue of Oxygen Magazine to learn more about how they would train, eat, etc.  I began to set my sights on competing.  I knew I could compete and do a great fitness routine in a competition…I just didn't quite know how to achieve the lean and fit look of the athletes.  I began tumbling, strength training and conditioning.  I always struggled with the nutrition side, not fully understanding what it really takes to get competitively lean. Regardless, I continued to train, never getting close to my goal of competing.  Then came life's great little distractions…I got engaged, then married, and eventually was blessed with two kids.  As the years passed by, I found myself horribly out of shape and overweight.
About a year ago, in May of 2011, my husband asked if I would like to run an obstacle race.  I laughed. My husband has always maintained a pretty decent level of fitness, but running just wasn't his thing. And I had no business running a race.  I could probably run a quarter of a mile before having to walk.  Was he joking?  He showed me pictures of the course, the obstacles and the mud.  It looked like fun, but there was no way I could do it.  I went to bed that night, bothered by the fact that I couldn't even run a 3 mile race.  The next morning, I got up, got online and registered us both for the race.  I had two months to get ready…yikes!  I spent the summer running, dropping over 15 lbs before the day of the race.  It took time, but I went from dreading each run, to actually looking forward to each run, feeling more and more alive each time I passed a milestone in my training. We ran the race at the end of July 2011, and I managed to beat my husband by more than 12 minutes. I was thrilled, and encouraged.  I ran more races throughout the year, continuing to lose weight, but still did not experience the physical transformation that I had hoped I would. I found myself blaming my physique on two pregnancies, but deep down inside, I knew I could do better.
I enrolled my kids in gymnastics in the fall of 2011, and that's when it happened. Watching them made me think about the days when I had hoped to compete in fitness, more than a decade ago.  I started to look online at various federations and competitions.  Competitions had changed so much in the last 10 years.  There are now so many more categories and opportunities for people to compete.  I stumbled on the WBFF and then on to Hitchfit and Diana.  I was hooked…the glitz and the glamour of the show, I knew I wanted to eventually compete in the WBFF.  And how lucky to have Diana and Hitchfit right here in Kansas City!  At this point, it was roughly 11 weeks away from the May 12th US Central Championships, hosted by Diana and Micah in KC.  If I didn't compete in 2012, I would have to wait another year to compete at their show.  I got in touch with Diana and shared my aspirations with her.  And just days later, I began my online transformation, with less than 11 weeks until the competition. What a whirlwind!
I won't lie…it took commitment, discipline and determination to prepare myself to compete.  I didn't go to bed unless my meals were packed for the next day.  And the workouts got progressively greater in intensity and duration over the 11 weeks.  People often ask me how I did it…I often say, "it was hard, but really not that bad at all."  The truth is, it is only "hard" at times, and those times are fewer and further between as you progress the through program.  As the transformation becomes part of your lifestyle, it just becomes something that you do, like always watching your favorite show on Thursday nights or brushing your teeth before you go to bed.  At first, it seems like it involves so much planning, preparation and sacrifice, but after 12 weeks, it's just part of your normal routine.  And the results can be incredible if you stick to the plan.  I did no more, no less than what Diana instructed me to do each week.  I stuck to the plan, determined to step on stage at the best I could be by May 12th.  And much to my amazement, I placed 2nd in Diva Bikini 35+ and 5th in Diva Fitness 35+.
It was an incredible experience, and I enjoyed every minute of it.  The women and men that compete are so inspiring…the obstacles they've overcome, the sacrifices they've made, the goals they've shattered, and the thrills they've enjoyed along the way.  I will be competing again this November with the WBFF, and I can't wait!  I know I've inspired some of my friends to make their own transformations, and have even inspired a few others who will join me to compete in November.
I owe Diana and Hitchfit a huge amount of gratitude.  She was the perfect coach for me.  She gave me the resources and tips I needed, with the perfect dose of encouragement and gentle nudging to stay focused. Competing for the first time can be such an overwhelming experience…you tend to doubt your readiness to compete, even in the days and hours leading to stage time.  Diana was there to calm my anxieties and keep me on track, even at times when I felt I wasn't making adequate progress. She has an incredible ability, and I'm so glad that she is here, willing to share her knowledge with anyone aspiring to become fit and reach new heights!"
Chloe's Program Choice – For those who are ready to step on stage!
How "Lo" Can You Go? How to Get a J. Lo Body
http://hitchfit.com/2012-06-01/fitness/how-lo-can-you-go-how-to-get-a-j-lo-body/

Hitch Fit Clients Share their Stories of Transformation
Start Your Transformation Today!!!
Click Below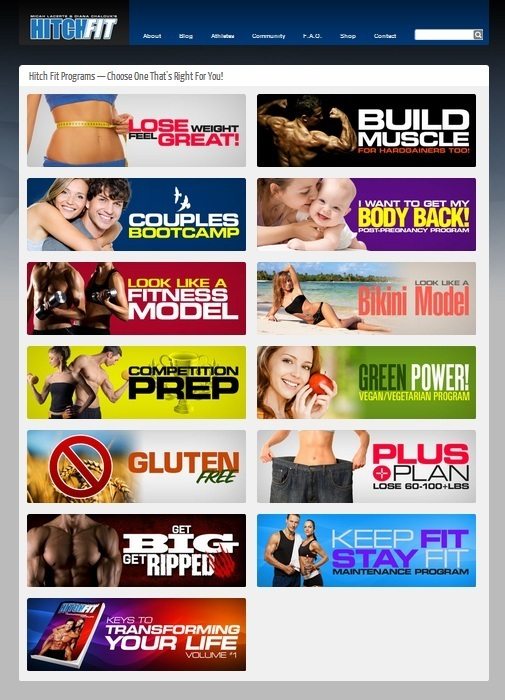 HOW HITCH FIT WORKS