I could not be more happier for this couple.  Francisco and Alma wooped some major butt and did it with a very busy schedule.  They are parents of 2 and both have a busy work schedule.  They used the 12 week Couples Bootcamp Program
Alma and Ciscos Video Transformation
Almas Testimonial
Weight- 115.2-109
Bodyfat- 15.04 – 12.61
Hip- Dropped  2 1/2″
Waist- Dropped 5 1/2″
I first met micah and diana in 2009, when i was at my heaviest 137lbs.
I had never really struggled with my weight until i had my second daughter. I would diet, cut calories(shakes), "miracle pills", wraps and cut food out but I could not drop an ounce. i always kept it in the back of my mind and closet that i would get my body back and fit into my clothes again. Even when my seams were coming apart i was determined not to buy new clothes with the hope i would lose my "baby fat". I was never in ideal shape or fit condition but i was satisfied with what i looked like. After my baby i was not happy at all.
Witnessing all of Micahs success and transformation inspired me a lot, and it all sunk in. With his tips, of the obvious like exercising and eating more vegatables, which i was not a big fan of,  i slowly lost about 20lbs which was a big accomplishment after 3 years of stuggling.
Talking with Micah about his transformations, walking into the gym and constantly glancing at the before and afters started to slap me in the face. In the end of 2011 i made up my mind and decided it was my turn to be on the "wall". I was kind of nervous about going at it alone so i asked my husband to join with me, even though he was not over weight, i wanted him with me through the journey. I figured we would both get something out of it and he had been talking about getting bigger so maybe this would help.
Our very first meal was a struggle in itself. We were stuffed. Could barely finish our breakfast. The rest of the day was not any different. But eating was not all of it. Cooking all that food was a mission itself. I would try to get lunches ready the night before but that didnt work out that way all the time. It was hard to remember how much to eat of what when so that kind of made me neglect the girls' food sometimes. On top of that after school activities and crazy schedules did not help. Once i had it down then i was on top of it. I started experimenting with my traditional food and tried every way to healthify it. Instead of having it for dinner now it was an earlier meal. My older daughter became more conscience of what we were eating too. Any thing that was given to her she always asked "Is this healthy?"
Working out was fun and painful all in one. It was also a struggle to get it all done, both in that week and once we made it to the gym to get it done that hour, but in the end our bodies asked for more. The first leg routine i did was super painful, during and after. I went home with painfully swollen knees. I managed to get through it and do it again. Soon the recovery pain and swollenness?? was less and my knees became stronger.The day I did not work out was a drag. Energy levels went up and could almost say that stress levels came down because i could handle day to day things a lot better and was able to releive the stress at the gym. Every one at the gym would ask me "how was i so determined to be at the gym almost every day?". I would just answer that the results i was seeing was motivation enough. That is what kept me going. Results that i had not seen with just the classes offered at the gym. I still took the classes but also made time to do Micahs routine.
Now after these past couple of months i am proud to say that i am proud of me. Something i had not been able to say. I love the way i look, the way i feel. I did not only get my body back but i went beyond. I do not ever remember looking like this, this new me is better than high school me. I still ended up having to go shopping but in a good way, smaller clothes because my pre-baby clothes do not fit. Thank you Micah and Diana for…teaching me how to live healthy and clean.
Franciscos Numbers
Weight- 151-136lbs
Bodyfat%-15.04- 7.37
Dropped 5″ on his Belly
Alma and Ciscos' program choice:
Hitch Fit Latest Transformation Amy
Click Below to See more Pics and read Amys Story
Hitch Fit Clients Share their Stories of Transformation
Start Your Transformation Today!!!
Click Below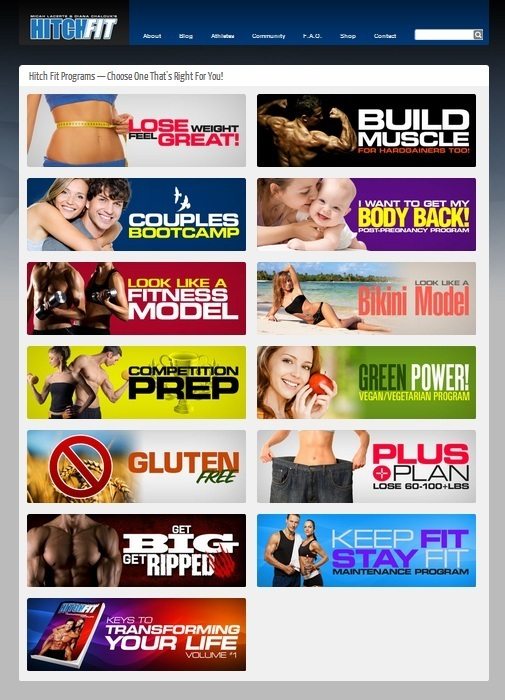 HOW HITCH FIT WORKS