I am so excited to show you andrews transformation because I know how inspiring this will be for some many men out there.  Also the fact that one of our other transformations was the sole reason that inspired him to go full force.  Andrew is from Australia and now living in the Middle East so I have not got the chance to meet him or shake his hand but he knows how proud I am of him!!!
Andrew Started at 281.3 lbs , 35.3% Bodyfat and a 52″ belly wearing a 46 pant.  In Only 5 Months he became a  Super fit 218 lbs, Dropped to 12.6% bodyfat and a 36 pant.
He lost over 62 lbs , lost  23.7% Bodyfat ,  Dropped 16″ off his belly and Dropped 10 Pant Sizes 
Nothing Less then AMAZING.. Andrew did the 16 week Lose weight Feel Great Plan
Take the time to WATCH THIS 10 Minute Weight Loss Testimonial..
Andrews Story and Advice to YOU
"Hi, my name is Andrew.  I'm an Australian expat working and living in the Middle East.  I've just completed 20 weeks on a Hitchfit plan and wanted to take the time to share my experience and hopefully inspire someone else to do the same.  When I contacted Micah, I weighed 281.3lbs and was 35.3% bodyfat, I'm 6'3″ tall and 41 years old.
In my younger days I was a very fit guy, I played senior men's basketball semi-professionally in Australia until my mid-20′s and always prided myself on being someone who trained very hard to get the best out of himself.  I rarely took nutrition seriously however, I just trained so much that I was able to get away with eating pretty much whatever I wanted.  Once it became clear that I wouldn't be making a career out of basketball and cut back on the training my weight gained rapidly and was I never in control of it again, until now.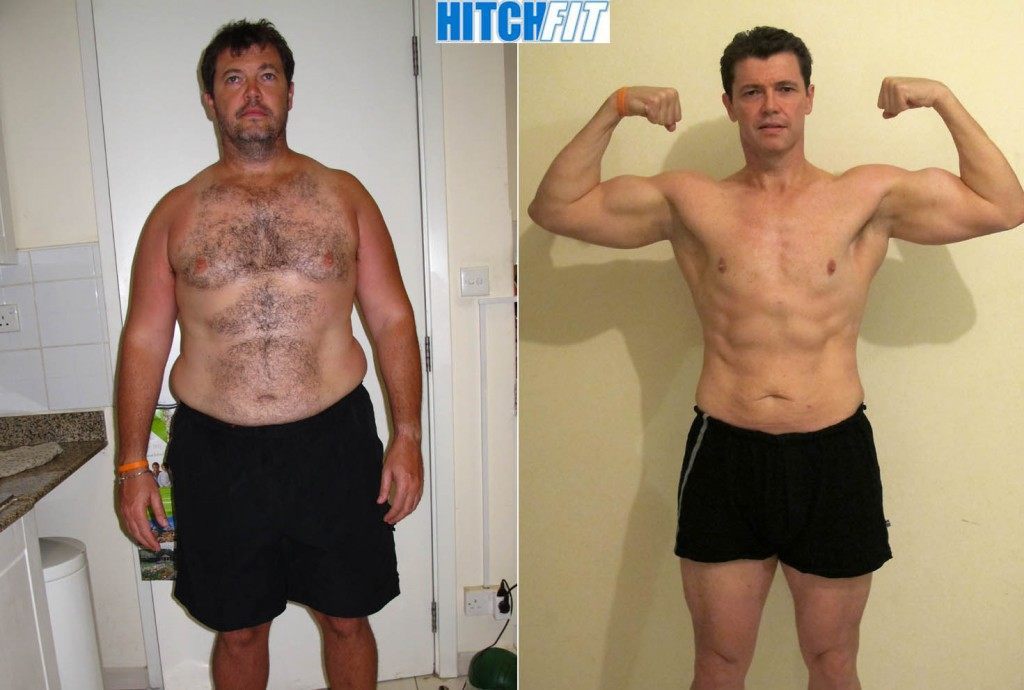 I basically spent the next 15 years always talking about and trying to lose weight/get in shape but my weight was just continually going up over time.  In 2009, I mentally hit rock bottom and my weight was up to 323lbs.  My old trainer at my local gym had moved to a small boutique gym which specialised in personal training so I contacted her and committed to a 6 month contract to get serious about achieving results.  It went great for the first 2 months, I lost 26lbs and hadn't felt so good about myself in a long time.  At this time I landed a job in the Middle East which required me to leave Australia at short notice. Apart from leaving friends and family the hardest part for me was leaving before I had finished my weight loss journey.  I tried to hit the ground running once I moved abroad and continue with my diet and training but it was terribly difficult and the pressure of starting a new job and moving my family to a new country was overwhelming to say the least.  I eventually fell back into old habits and while I maintained a weight about 10lbs lighter than when I left Australia I was back on the yo-yo training/diet lifestyle.  I would change my diet, my workout routine, my supplements, you name it every 3-4 weeks and couldn't stick at it any of it for longer than a month.

Then in September last year two things happened in quick succession which got me off this path and where I am today.  My job requires me to be certified by a medical doctor every 2 years for safety reasons, late last year during that process the doctor told me my BMI was very high(which I knew) and that they were getting stricter with people in this category and I would have to have my cholesterol checked to be cleared to work.  Basically my entire livelihood was dependent on that test.  I passed the test but vowed to never be in that position again.  Around the same time I was a regular visitor to bodybuilding.com(where else was I gonna get my new diet and program every 3 weeks right?
This is where I came across the transformation story of Chad Evans.  It was the 2nd or 3rd Hitchfit success story I'd seen featured on the site but Chad's was the one that just completely blew me away and gave me the one thing I needed above everything else, hope.  I'd gotten to a point where I'd started to believe that you could put on so much bodyfat that some of it would be impossible to lose, it was just irreparable damage I had done to my body over time.  Chad's transformation blew that theory right out of the water.  He didn't just lose weight, he seemingly turned back the clock which is exactly what I knew I needed to do.
Andrews Inspiration- Chad Evans
My fantastic wife has always been so supportive and patient trying to help me get out of my slump and get some real results but even she was skeptical when I asked for hundreds of dollars for ANOTHERworkout program.  I eventually convinced her, but the look on her face said it all.  If I didn't get it done this time, I was going to lose her belief that I ever could.  It was back-against-the-wall time for me but I was confident that getting a program and diet designed specifically for me and my goals was exactly what I needed.  I just needed a plan that I could follow without having to think about it, I just had to go out and execute.
From that point on my life has changed completely, it's just been milestone after milestone for the last 20 weeks.  I've achieved so much more than I hoped for when I first contacted Micah, not in my wildest dreams did I think I could get this far this soon.  Not only that, but it's not a quick fix that I've achieved, I have completely changed my lifestyle.  I originally committed to 16 weeks on the plan, I was petrified at the thought of having to stick to a diet for so long.  At the end I couldn't wait for it to finish so I could start a new diet and workout regimen to move on to what I consider Phase 2 of my transformation.  This is just a part of who I am now.  Along the way I've gotten so many fantastic compliments from friends and colleagues, the look some people give you when they know who you are but you can see part of their brain is telling them this person before should be 60lbs heavier is just priceless!  My relationship with my family has never been better, my wife and 2 daughters are the presidents of my fan club and I couldn't have done it without their love and support.  Just the feeling I get when I see how my wife looks at me now, I can't describe with mere words.  I bought a pair of Levi's (size 40″) in 1999 that I couldn't fit into with the goal of losing weight to wear them.  Well I never did until now, I was hoping I could fit into them by the end of my program.  Well I started wearing them at about the 9 or 10 week mark and now they are kinda too big for me!  Last night I went out for a celebration dinner with friends and my new 38′s are pretty loose now so I'm heading out shopping today for some 36′s!
Hitchfit is not a quickfix, gimmicky fad diet.  It's a complete education.  I liken it to a university degree.  Unless you turn up to the lectures and study in your own time, you'll get nothing out of it.  But if you commit to it, it will set you up for life in my opinion.  Micah was so patient, helpful and encouraging every step of the way.  Without having him to report to and receive feedback from every week I may not have got it done.  Just having someone that supportive to help you along is truly invaluable and I dare say it was the difference for me.   If you're reading this now and in a similar situation to where I was at the beginning, just know it's never too late and it's not impossible.  I would suggest that the fact you are reading this means that deep down you still have the belief you can get it done, you can!  Do it, I promise your life will never be the same.
I cannot thank Micah and Diana enough for what they have given me and my family.  My family thanks you from the bottom of our hearts."
Teacher Gets ripped in only 12 weeks with Hitch Fit 
Hitch Fit Has Teamed up with Kctv 5 News
We have our Own Transformation Segment.
Watch Iris Transform Weekly
http://www.youtube.com/watch?v=biJs7XXQuVw&feature=relmfu
Build a Huge Chest Routine
http://www.youtube.com/watch?v=79bxIxOVgoY&feature=relmfu
Hitch Fit New Plans
Get Big, Get Ripped Plan
This plan is Designed to go through a Build Muscle Cycle and a Get ripped Cycle Leaving you Bigger and more Ripped after your Transformation
Plus Plan
This Program is designed for the Individual that need to lose 60-100 lbs.  After this you will be a whole New person up to 100lbs less!!!
The Keep Fit, Stay Fit- Maintenance Program
HITCH FIT TV COMMERCIAL
http://www.youtube.com/watch?v=E3wtkyAA3LE
See How people all over the World transformed!!!
http://www.youtube.com/watch?v=P5slHZRO0kk
See How Kansas City is Being Transformed!!
http://www.youtube.com/watch?v=yj4z4f9yi84
IF YOU ARE READY FOR YOUR TRANSFORMATION? CONTACT US TODAY !!!
See How Hitch Fit Works!!!
See How 100′s Have Transformed Their Lives
http://hitchfit.com/blog/before-afters/
Swat Officer Chad Lost 50 in 16 weeks
Contact us today if you are ready for your Transformation
Micah@hitchfit.com
Add Our Hitch Fit Client Group On Facebook!!!
http://www.facebook.com/groups/182268998504982/
Tags:
Australia fitness model
,
Australia weight loss
,
lose belly fat
,
lose inches
,
Lose Weight
,
lose weight feel great
,
Male
,
Middle East Weight Loss
,
more than 20% body fat lost
,
Online Personal Training
,
over 60 pounds lost