As you can see Matt was in Average or decent shape day one.  His goal was to get in the best shape of his life.  He was a college athlete in the past so had the ability to take his body to a Extreme level and in only 3 months he did.  Amazing work buddy.  Matt Did the Couples Bootcamp Program with his Wife Brenda.
Day 1
195 lbs,
13.13 % Bodyfat
34″ Stomach
12 Weeks Later
179.2 lbs
5.65% Bodyfat
30 3/4″ Stomach
Matts Transformation Video
I began my HitchFit journey with my wonderful wife through the couples bootcamp.  My wife brought this program to my attention after seeing one of her friends transformation through the HitchFit program.  I had always been an athlete and new of only one way to train and that was for athletic competition.  Over the summer, I had developed unhealthy eating habits and had put on over 10 pounds and my weight reached 200lbs.  With a little encouragement from my wife, we jumped into this journey together.
After being introduced to the program, I knew that I needed to make some changes to my lifestyle.  I had started to snack between meals with unhealthy alternatives and my portion sizes at breakfast, lunch and dinner we out of control.  Also, I had completely cut out aerobic exercise and was just lifting 2 times per week.  Also, with coaching a baseball team in the summer, I would eat many of my meals after 10:00 or 11:00 at night.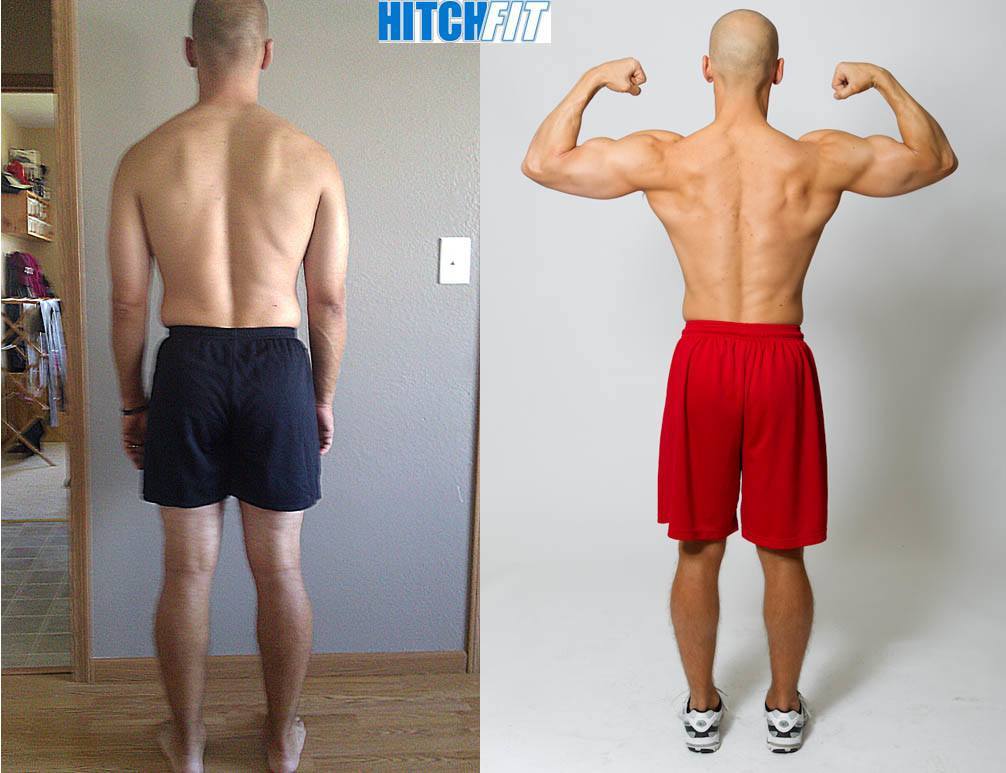 I had always had a passion for being in the weight room but my training methods were that of an athlete training for competition without the cardiovascular exercise.  Therefore, I was not seeing a change in my body and was starting to put on more body fat.  I was not happy with the way that I had looked.  Also, my workouts had become stagnet and I was lacking motivation to get into the weightroom.  Both me and my wife wanted to change the way that we were living our lives without sacrificing the time that we have with our two children.  We signed up for HitchFit Couples Bootcamp and began our transformation together.  Once I received the plans, I was a little skeptical about the workouts and if I would be able to complete them.  The first week was the most difficult but once we figured out the schedule, it became part of our routine.  The different exercises and training methods really energized my day and I found that I had more energy to play with my kids and enjoy my work day.  The meal plan gave me incentive to continue with the workouts and I started to see a change in the way my body was looking.
I lost 17lbs on HitchFit and dropped my body fat % by 9%.  My wife and I continue to lead the lifestyle that we experienced on HitchFit.  We are looking forward to continuing on this lifestyle journey together.   HitchFit really changed our lives.
Hitch Fit New Plans
Get Big, Get Ripped Plan
This plan is Designed to go through a Build Muscle Cycle and a Get ripped Cycle Leaving you Bigger and more Ripped after your Transformation
Plus Plan
This Program is designed for the Individual that need to lose 60-100 lbs.  After this you will be a whole New person up to 100lbs less!!!
The Keep Fit, Stay Fit- Maintenance Program
HITCH FIT TV COMMERCIAL
http://www.youtube.com/watch?v=E3wtkyAA3LE
See How people all over the World transformed!!!
http://www.youtube.com/watch?v=P5slHZRO0kk
See How Kansas City is Being Transformed!!
http://www.youtube.com/watch?v=yj4z4f9yi84
IF YOU ARE READY FOR YOUR TRANSFORMATION? CONTACT US TODAY !!!
See How Hitch Fit Works!!!
See How 100′s Have Transformed Their Lives
http://hitchfit.com/blog/before-afters/
Swat Officer Chad Lost 50 in 16 weeks
Contact us today if you are ready for your Transformation
Micah@hitchfit.com
Add Our Hitch Fit Client Group On Facebook!!!
http://www.facebook.com/groups/182268998504982/
Tags:
6 pack
,
Couples Bootcamp
,
cover model
,
fat to fit
,
Fitness Model
,
Fitness Model Program
,
get abs
,
less than 20% body fat lost
,
Lose Weight
,
Male
,
ripped
,
under 20 pounds lost